Graphic design, custom logos, and branding solutions in Halifax.
Build your brand. Grow your business.
We combine strategy and creativity to create graphic design experiences for businesses in Halifax and other areas of Atlantic Canada.
Creative Curve ensures that your communication and media outlets are branded consistently and effectively. From new business startups to seasoned brands, we can provide the graphic design skills that your business requires.
Print Services at Creative Curve Media Group Inc.
View samples of our
graphic design work below.
North Yacht Shop
Branding
Logo designs created for North Yacht Shop, including both badge and horizontal logos as well as both stamp and clean versions of each. We also have created a brand manual for them including, colors, logo usage, fonts, and other specifications.
Kartbahn Racing
Bannerstand
Retractable / pull-up banner designed to promote Kartbahn as Atlantic Canada's Premier Indoor Karting and Laser Tag Facility.
kartbahn.ca
Nova Scotia Spirit Co.
Logo & Label Design
Logo created to showcase the local water used in filtering these spirits. We wanted to create something simple, yet eye-catching. The labels were designed with local craftsmanship in mind (small batches have a place to hand-write the batch numbers). All the design elements are inspired by a weathered "Fisherman Wanted" flyer the owner had found on the property.
nsspiritcompany.com
Savour Food & Wine Festival
Branding
These ads were created to show the many events that Savour hosts each year. We also wanted people to know that tickets for all of these events are available online and that they make perfect gifts.
savourfoodandwine.com
The Stubborn Goat Gastropub
Food Menu
This menu was designed to embody the atmosphere you get while at the Stubborn Goat. From the white brick background outlining the meat cuts to simple layout that captures their fresh gastropub feel.
stubborngoat.ca
Volkswagen Canada
Scotia Bank Center Ads
These ads were created to advertise the new VW Vehicles. They were designed to be simple and easy to read as it was created for the Scotia Bank Center Jumbo Screens, while still staying true to the Volkswagen Canada brand. Design only.
vw.ca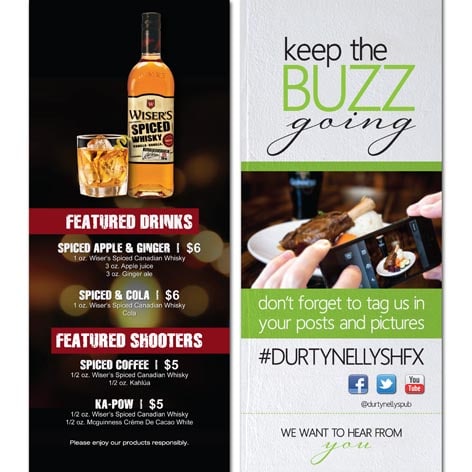 Durty Nelly's
Table Toppers
These were created to advertise specials and events for Durty Nelly's. There are placed in a stand on each table which holds up to three prints. Printed on 165lb coated cover.
durtynellys.ca
SBW
Medical Insurance Campaign
SBW approached us with something outside the box, that was not the norm for their industry. This campaign was directed specifically to the restaurant and hospitality industry employees.
sbwdirection.com
Manga Hotels
Magazine Ad
Manga Hotels wanted to create an ad for the airport magazine informing new visitors of their Hotels offered in the HRM area and the benefits included with your stay.
mangahotels.com